Missing 1,600-year-old mosaic returned after four decades
Source : CNN
1,600-year-old missing mosaic has finally returned to its home in Cyprus, more than four decades after it was looted from a church.  Dutch art historian and art crime investigator 
Arthur Brand
 spent the past three years tracking down the stolen artifact, a Byzantine-era depiction of Saint Mark, Brand 
said
 on his website.
The relic was handed over to the Cypriot Antiquities Department and the Church of Cyprus during a ceremony at the Hague in the Netherlands on Sunday, 
according
 to Cyprus News Agency.
The sixth-century mosaic was stolen from the church of Panaya Kanakaria in northern Cyprus following the Turkish invasion in 1974. It was one of several icons looted from the church during this time and believed to be the last recovered.
Missing 1,600-year-old mosaic returned after four decades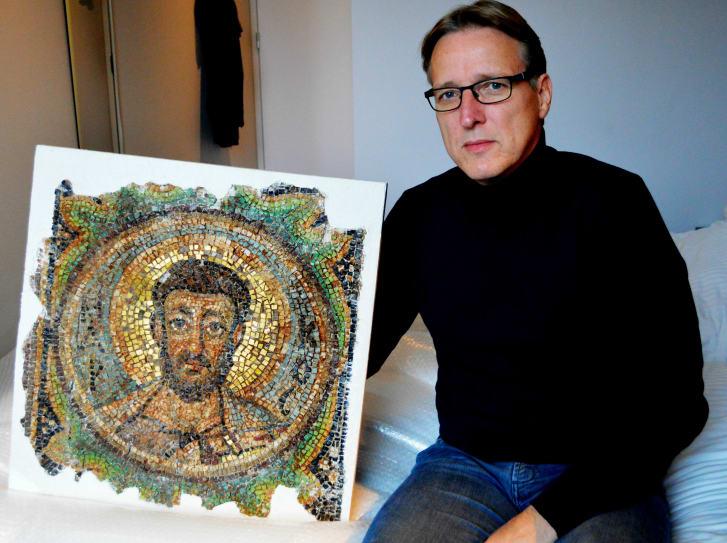 Dutch art detective Arthur Brand poses with the missing mosaic of St. Mark, a rare piece of stolen Byzantine art from Cyprus.
Credit: 
JAN HENNOP/AFP/AFP/Getty Images
"This is a very special piece that's more than 1,600 years old. It's one of the last and most beautiful examples of art from the early Byzantine era," Brand 
told
 Agence France-Presse.
It was the hunt of a lifetime for Brand and one that took him across Europe, where "informants were arrested in unrelated cases" and "people got scared and disappeared," he claimed in a post on his website.
Brand managed to trace the mosaic to an apartment of a British family in Monaco who were "horrified" to find out the piece was looted treasure.
"It was in the possession of a British family, who bought the mosaic in good faith more than four decades ago," he told AFP.
The owner, according to Brand, agreed to return the artwork to Cyprus and was offered a symbolic compensation for taking care of it over the years.
Brand is a well known figure in the art crime world. He's recovered well over 200 works of art, including ancient Aztec artifacts, antique porcelain plates and numerous paintings looted by the Nazis.
In one of his 
most high profile cases
, Brand aided German police in the retrieval of a pair of bronze horse sculptures by Josef Thorak that once belonged to Adolf Hitler.
In 2016, Brand 
helped to recover
 five stolen artworks of the Dutch Golden Age from a Ukrainian militia force.
841 total views, 10 views today